McWane Poles is a product line of McWane, Inc. McWane is a family-owned company that has been serving customers in the iron and ductile iron industries since 1921.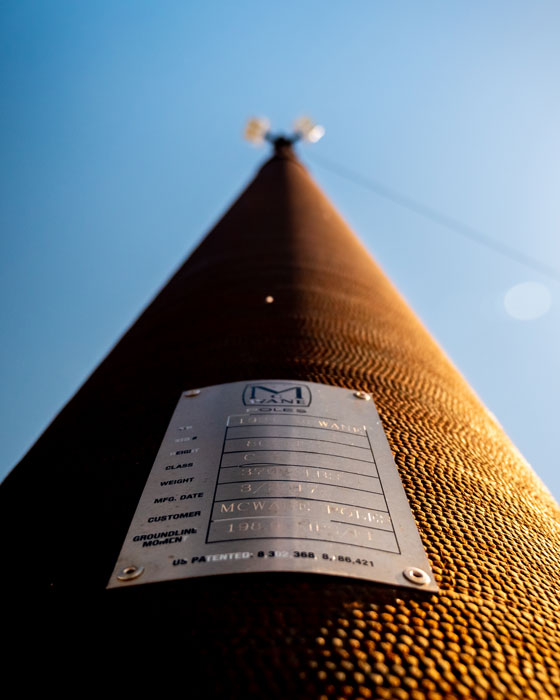 McWane Poles was conceived in 2007 with the research and development of a tapered pole design for centrifugal casting of ductile iron. In early 2008, McWane Poles was born. The first ductile iron pole was manufactured in Ohio, and after casting molds were commissioned and extensive third-party testing was completed, McWane Poles were taken to market. Today, McWane ductile iron poles are installed in 42 states and over 400 utilities.
To continue McWane's commitment to quality and customer service, a new 140,000sf building was purchased to house a new, fully automated manufacturing line. This investment increased capacity five-fold and ensured that McWane Poles provided the shortest lead time possible.
In 2021, McWane celebrated its centennial anniversary and the innovation and invention that comes with 100 years of service. Most importantly, McWane celebrated everyone who has made the last 100 years possible. While some team members may be beginning their McWane story, others have made memories with McWane for many years. We are deeply grateful to all of our team members for their dedication, commitment and hard work.
Our Principles and Values
Safety
Every human life is valuable, and we are committed to protecting the life and health of every team member. We expect our team members to work safely. We do not accept unsafe behavior. At McWane, we do it safely or not at all.
Environment
We are stewards of the environment. Our responsibility goes beyond producing products of superior quality and earning profits. We are strongly committed to protecting our planet. When we protect our planet, we protect our team members and the common good of our communities. The McWane Way protects the environment for generations. We are good corporate citizens. We are good neighbors in the communities where we live and work.
Accountability
We are responsible people doing responsible work. Accountability builds self-respect, creates pride of association, and is essential to achieve high levels of safe and efficient productivity. We expect team members to own their decisions and outcomes while we exercise fairness in evaluating results.
Excellence
We have high standards. We are proud to be industry leaders, and we work hard to keep it that way. We expect valuable contributions from all our team members through their workmanship and the sharing of ideas. We are proud of our products. We are proud of our processes. We are proud of our people and their commitment to excellence. We know excellence is a journey, not a destination. Continuous improvement is The McWane Way.
Trust
Trust keeps business and personal relationships functioning at their highest levels. When we trust each other, we build stronger relationships and create the "Speed of Trust." With trust, everything we want to achieve together is easier and takes less time. This contributes to the sustainability of our business by reducing costs and increasing team morale.
Teamwork
We are a team. We are at our best when every team member contributes their knowledge, skill, and experience. Dignity and respect is the non-negotiable baseline for all teams at all times. The McWane Way reflects our history, our work, and our pride of association. No individual can consistently outperform a team. We work together. We win together.
Communication
Our business depends on the candid exchange of clear information. What we communicate matters. Getting the right information … to the right people … at the right time is an essential element of our success. How we communicate matters. We are open, honest and direct. At the same time, we are constructive, and respectful. Fast and effective communication helps us do our jobs better and helps keep our company competitive.
Leadership
At McWane, we value and encourage courageous leadership. Regardless of our positions or jobs, we all have opportunities to lead. When we lead ourselves well, we have the potential to influence others in positive ways.