Storms and weather events can be catastrophic. Harden your lines and reduce damage with ductile iron poles.
Major weather events are increasing in frequency and intensity, and as the power of storms increases so does the risk of significant losses. Distribution systems are not typically built to withstand hurricanes, severe winter storms, tropical storms, or superstorms, and a recent study concluded that the U.S. is not prepared for a catastrophic power outage, which can knock out 911 service, disrupt healthcare equipment, leave vulnerable individuals without heat, and even lead to deadly incidents.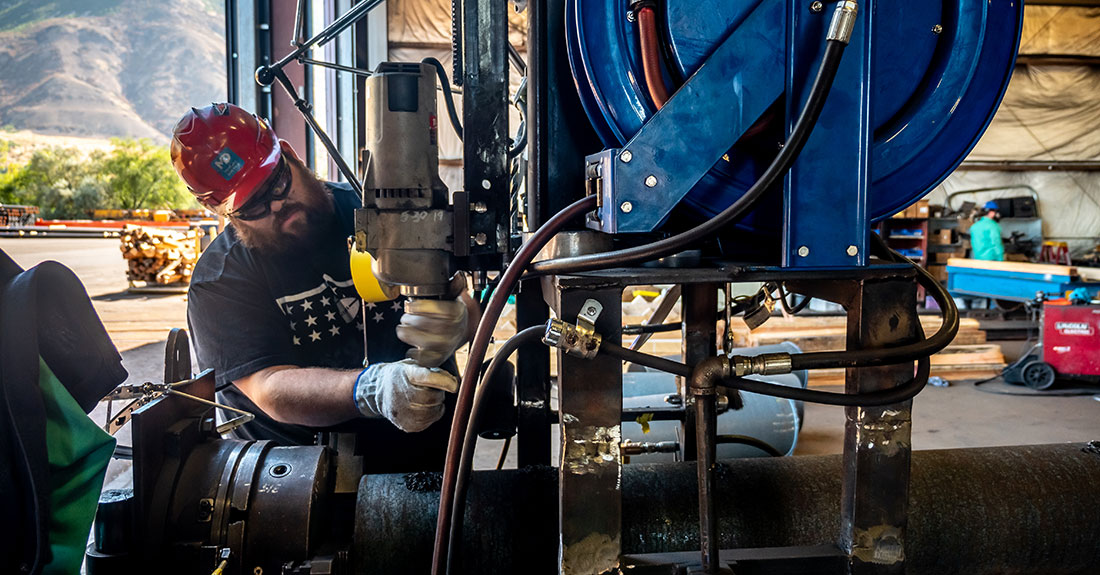 There's an economic cost too. Weather-related power outages cost billions of dollars each year, due to lost productivity, manufacturing disruptions, lost data, damaged inventory, and lost sales. Power outages have adversely affected large data centers like Amazon Web Services, major international airports, sport arenas, entertainment venues, university campuses, and more.
What can utilities do to implement line hardening?
A proactive approach to line hardening can save utilities millions of dollars when weather strikes. Line hardening not only helps mitigate damage, it also speeds up outage restoration, reduces the number of affected customers, and improves overall service reliability.
There are several common-sense best practices that all utilities should implement:
Establish and maintain a test-and-treat cycle for wood poles
Conduct attachment audits and mitigate overloaded poles
Institute regular feeder inspections
Assess foreign-owned poles
Develop standards for setting depths
Conduct a loading assessment at installation and every time a new attachment is placed or discovered or the pole
For many areas of the country, however, more aggressive line hardening tactics are needed.
Why is ductile iron one of the most effective tactics?
Ductile iron poles are engineered for consistent strength, with a minimum yield strength of 42ksi. They are extremely durable as well, outlasting wood and steel with a service life of over 75 years, and because they are resistant to corrosion, they are the perfect solution for extreme weather events. Ductile iron contains the same ingredients as cast iron, but with a different configuration of carbon. In cast iron, carbon is in flake form, while in ductile iron, the carbon is in nodular form. The result is the ability to bend without breaking under intense load pressure, offering a more durable and reliable solution.
Case Study: Ductile Iron Proves to Be the Key in Florida

In the Florida Keys, distribution is as difficult as you would expect, thanks to challenging geography, location, and weather. After the 2004 hurricane season, the Florida Keys Electric Cooperative (FKEC) needed to find a better pole solution. They had previously used concrete, wood, and steel poles. But steel corrodes, wood rots, and the weight of concrete makes transportation and installation expensive.

Case Study: Mitigating Damage, Protecting Coastline Views

A high-end residential community on Texas' Bolivar Peninsula presented an interesting challenge for Entergy Texas. The developer wanted a distribution solution that wouldn't obstruct the coastline views. But because of the strong storms and high tides from the Gulf of Mexico, underground service wasn't viable. They needed a solution that not only had curb appeal, but could also withstand storm surges.

Case Study: Storm Hardening Poles Saves Utility Millions

Cimarron, one of Oklahoma's largest electrical cooperatives, is no stranger to ice storms. In 2002, two ice storms brought down approximately 16,000 poles, which cost the utility tens of millions of dollars. And a 2013 storm caused more than 800 poles to fail. Because of the utility's hundreds of miles of straight distribution lines, a single pole failure can lead to the cascading failure of tens of miles of line at a time.